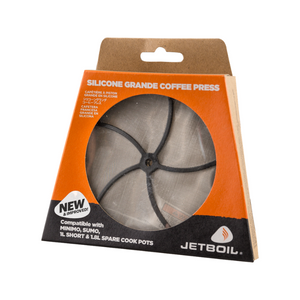 Grande Silicone Coffee Press
Sale price Price $49.95 Regular price Unit price / per
Jetboil's coffee press with a silicone ring guarantees the best brew in the backcountry or steam your favorite fish and vegetables with the Grande Coffee Press. Simply keep the basket up until your coffee has steeped, then press the basket down to trap the grounds. Save pack space with the detachable stem and basket, which stow easily in your cooking cup. This grande-sized press is compatible with Jetboil Stash, MiniMo, SUMO, and SUMO TI cooking systems, along with 1-liter short and 1.8-liter spare cups.
Resistant silicone ring provides secure fit to eliminate cowboy coffee by keeping excess grounds from escaping during plunging process
Durable, high-temperature plastic and micro-filter reduces sediment in the pot and provides smooth, rich flavor
Brew the best coffee at breakfast or use the basket to steam fresh fish or vegetables at dinner
Stem detaches from the basket and easily stow in your cup
Two stem pieces included. One piece is used for the stem of the MiniMo & Stash and both pieces screwed together are used for the Sumo.
Compatible with: 1L Short & 1.8L
Weight: 0.09375 lb | 0.042 kg
Dimensions: 4.5 in x 7.2 in (11.4 cm x 18.3 cm)
Compatible With: Stash, MiniMo, SUMO